Quick and easy way to sharpen with High Pass Filter.
I always get asked what is the best way to sharpen images and how I do it?
Well to be perfectly honest there is no right or wrong way to do it, some methods works perhaps better than others but it all boils down to how much time you want to spend editing and whether or not YOU like what you see when doing so.
I will show you one quick way I like to sometimes sharpen if I do not have much time to spend an a image. In this method we will be using the High Pass Filter in Photoshop.
Before we dive into this I would like to say that you must remember that you do not always have to sharpen the whole image, the reason for this is that most sharpening process enhance contrast at some level weather it is micro contrast or somewhere else. Now imagine an image with blue sky where there is no contrast, in sharpening the sky it can result in what looks like grain or noise. So best you use layers and layer masks to sharpen only the important arias that you would like to get sharper. In my case I have a large OOF (out of focus) aria that does not require sharpening.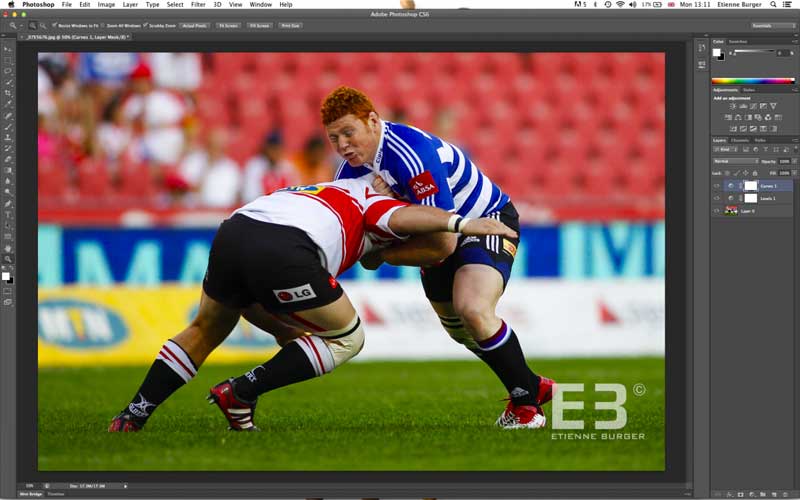 You also need to remember that no matter what sharpening technique you might use not one of them will make an OOF (out of focus) image look sharp.
Right lets see how this method is done.
Once you have your image open in Photoshop and you have finished all the adjustments to your image and you feel your image are done. We can now start the sharpening process. First off you need to duplicate and merge all your layers by selecting them all. To do so you right click and select duplicate, then right click again and select merge layers. This now will become your sharpening layer. Remember if there are arias that you do not wish to sharpen you can add a mask to this layer later. (NB. Make sure your photo layer is unlocked by double clicking on it to unlock the layer. You need to duplicate it with your other adjustment layers.)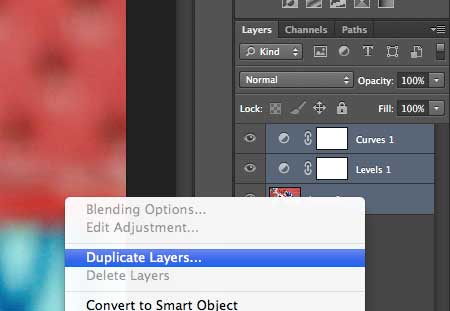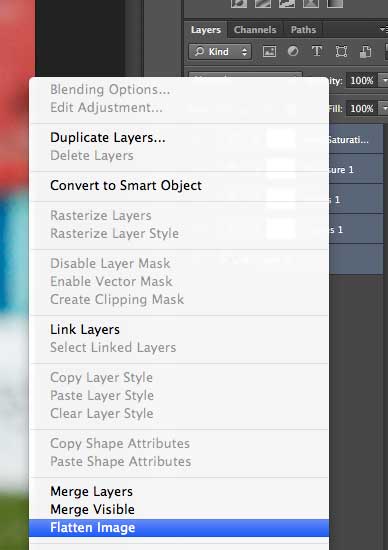 Go to Filter – Other – High Pass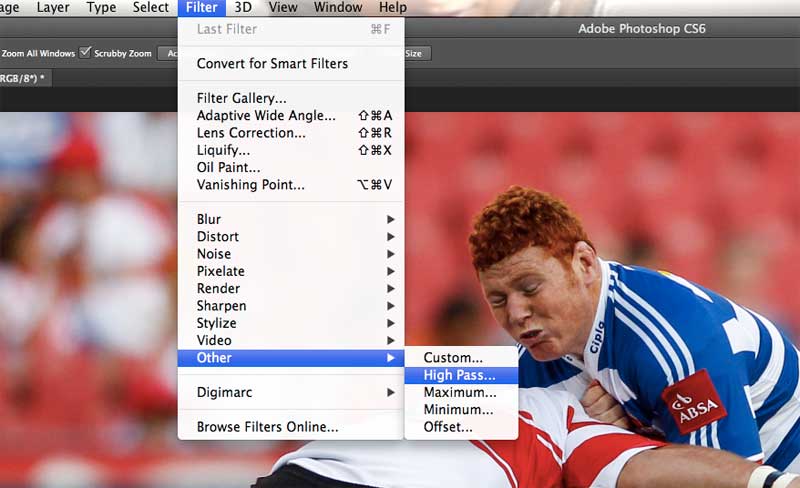 You now will have a screen where your whole image is greyed out and you have a window that requires a value. Now the more the value the more you will sharpen, remember more is not always better some times subtle improvements makes a big difference. I use a value between 5 and 5.5!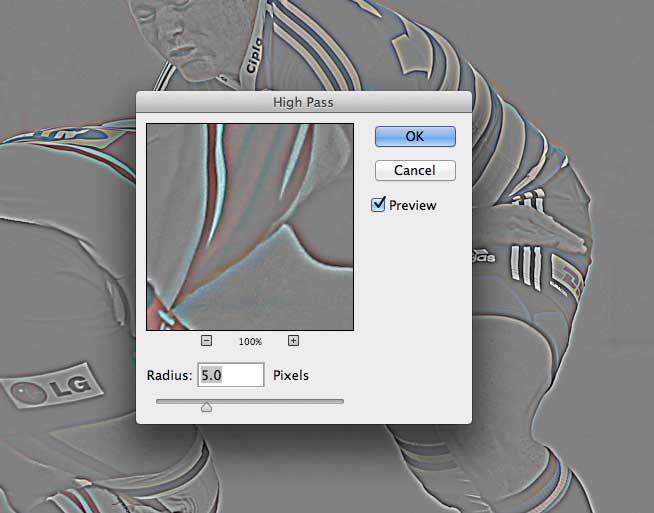 On to the next step.
Now go to Image – Adjustments – Hue & Saturation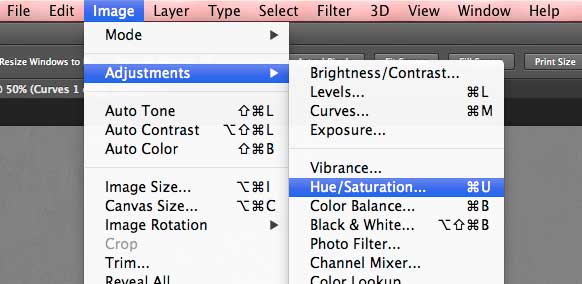 It is important to do it this way because we want to work on the layer and not add a Hue/Saturation layer…
On the Hue/Saturation window take the middle Saturation slider and slide it all the way to the left or give it a value of -100.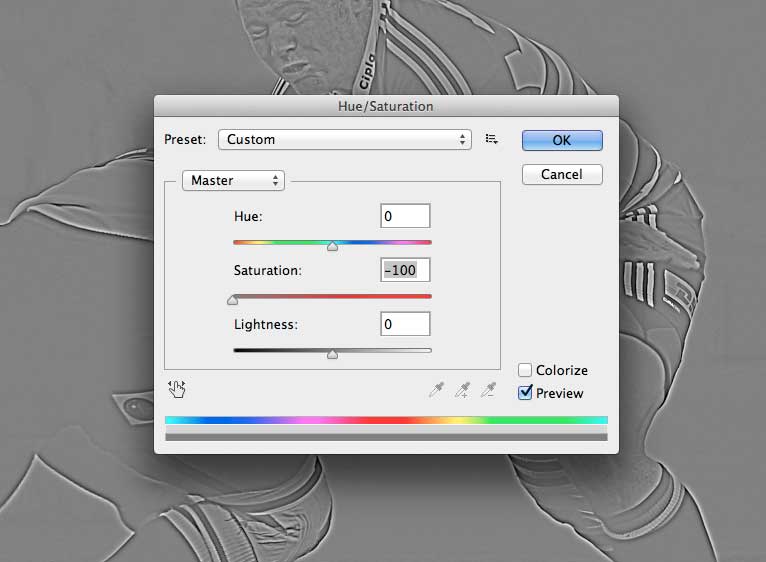 Once done you will see not all that much have change but not to worry, go to your layer section and select your layer from Normal to Overlay.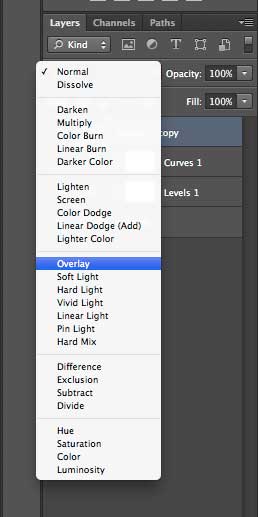 Your image will now once again look normal but with a lot of "sharpening" to it.This is a little over the top still, so we need to do some more adjustments.
Zoom in to 50% on an aria on your image that you wanted to sharpen, this value is shown on the bottom left corner.
You can now switch this sharpen layer on and off the see the difference.
While the layer is on move the opacity slider to the left to reduce the effect on this layer to something more natural looking, in my case I'm happy to leave it at 50%. (Remember this can differ from image to image and one persons preference to another.)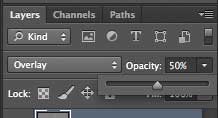 You can now add a mask to this layer and with a (black) brush remove the areas where you do not want to have sharpening added.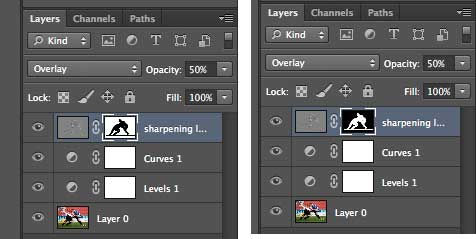 Or you can invert the mask (ctrl + I on PC and CMD + I on MAC) and only add sharpening to the area where you want with a (white) brush.
Done! You have now sharpened your image.
By Etienne Burger